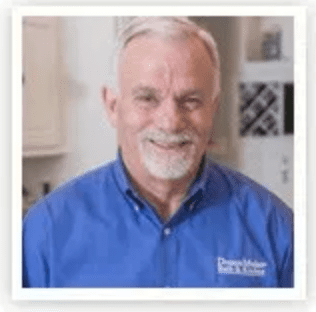 Everett Gray
Owner & Sales/Design
Brief info
Everett, an accomplished carpenter and contractor, has been in the business of residential remodeling and construction since 1972 and has four years of architectural drawing to enhance his training. When the opportunity of establishing a kitchen and bath design/build company in Bakersfield came along, he was thrilled to take his company to the next level and focus on the two most challenging rooms of the home. His 40 years of experience in construction, understanding of architectural drawing, and creative eye for design has been the foundation of DreamMaker. His clients, fellow team members, and trade partners enjoy Everett's wit and personal touch as he interacts with them throughout the process.
Everett, a native of Virginia, and Patty, a native of Kern County, have been married since 1975 and raised three sons. Everett's greatest joy came from raising his sons, coaching all three in Little League, and taking them on many camping, fishing, and water skiing trips. He now enjoys making many more memories with his grandchildren.
"Being able to visualize a project from its inception and turn an ugly duckling project and into a beautiful swan is what I love the most. We have been very fortunate to work with some of Kern County's very best homeowner's who appreciate the talent and value that DreamMaker has to offer."
When I am not working at DMBK, I like to:
When not working, Everett loves to travel, enjoys his children and grandchildren and like Patty loves the great outdoors. From playing a round of golf with his three sons and grandson to growing tomatoes in his back yard, to fishing on a beautiful mountain stream, he's happy to be outdoors and away from the computer screen. His bucket list includes taking a 3 month RV trip to see this great country of ours and traveling to Israel.