FREQUENTLY ASKED QUESTIONS
WHAT IS GENERAL CONTRACTING?
Are you planning on renovating or adding onto your current home? Let the general contractors at a DreamMaker Bath & Kitchen franchise help steer the efforts. A general contractor assumes responsibility for the completion of your remodel and/or addition, take on hiring and supervising and pay all subcontractors.
DreamMaker takes a comprehensive approach and the process flows smoothly from the design to the remodeling stage with the guidance of our general contractors.
Experienced contractors at DreamMaker franchises across the nation will work with you to coordinate and execute a plan that is suitable for your specific needs in a professional and efficient manner.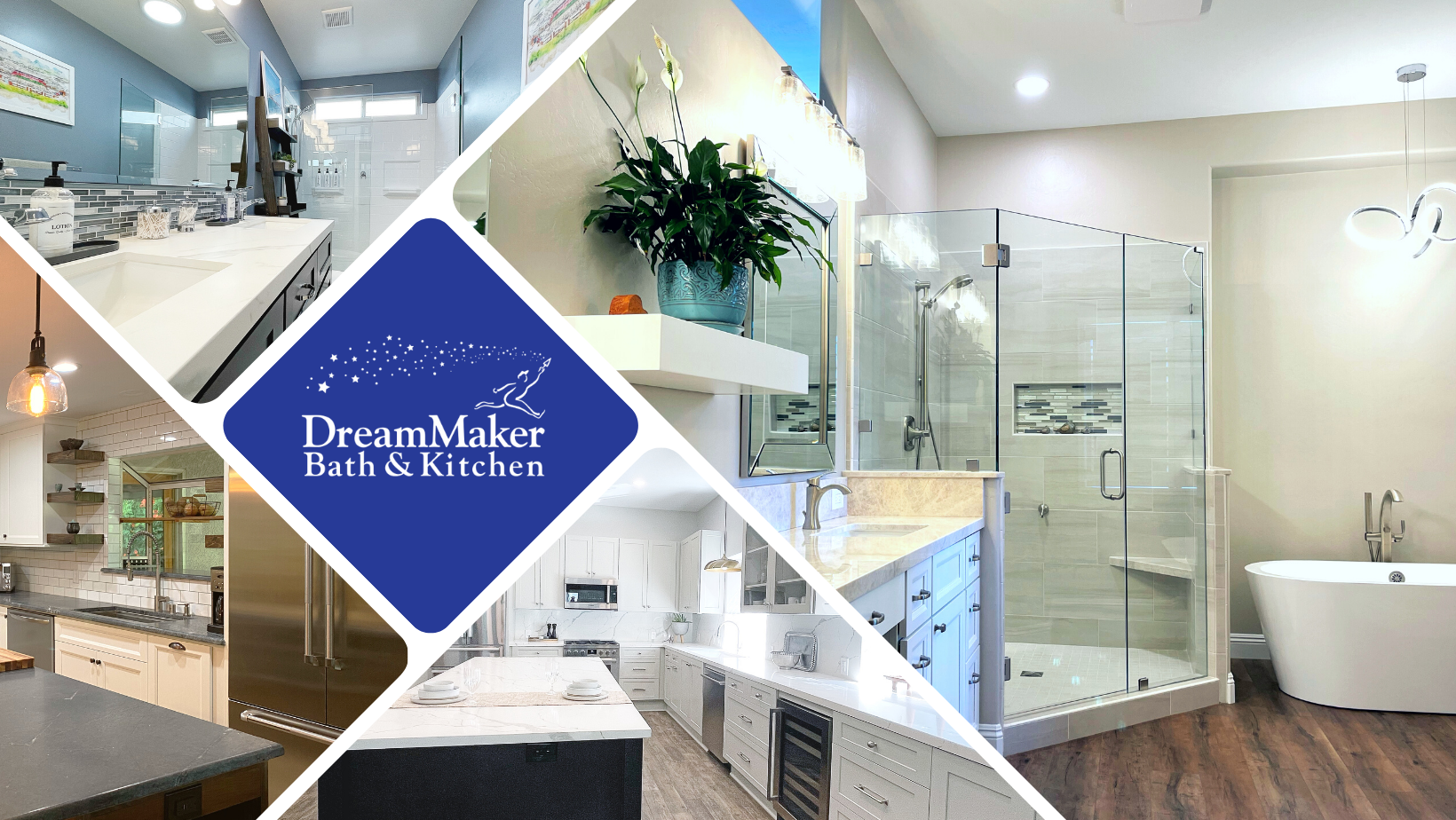 Services vary by location, but may also include:
cabinetry
flooring
crown molding
renovation
windows
decks
plumbing
carpentry
painting
installing luxury heating systems for your bathroom floors and countertops
installing designer cabinet hardware
sky lights
even providing products such as towel warmers, ergonomic floor mats and more!
These are projects that begin with plans and designs, and DreamMaker has the ability to provide you with accurate budgets, timelines and assurance of quality through extensive experience and shared best practices training.
FREQUENTLY ASKED QUESTIONS
How can I help facilitate the remodeling process so I am happy with the outcome?
Here are a few suggestions to help you achieve your ultimate remodeling goals:
Visualize and map out your "dream" space.

What's my purpose for remodeling?

What works? What doesn't?

What do you like and dislike about the space?

Prioritize your needs from your wants and remember you are ultimately the one who needs to decide what you want in your space, the remodeler can only make suggestions.

How long will you be staying in your home?

Have a budget in mind that you are comfortable with.

Hire a professional that you can trust by doing the proper research of their license, qualifications, and references or reviews.

Communicate your thoughts, concerns and wants with your remodeler during the design process. 

 

This will help to ensure that you have everything included in your original contract and will help to avoid unnecessary Change Orders.

Once the project begins, ask clarifying questions if you are unsure of what is happening and try to avoid making assumptions before your questions are answered.

Have realistic expectations:

There will be a certain amount of dust that is unavoidable. 

You will be inconvenienced during the process in order to achieve your goals.

Understand time lines going in. To do a project properly it takes time – approximately 6 weeks for a working kitchen and 4-6 weeks for a working bathroom.

Finally, remember that a beautiful new space will add value to your home and enjoyment to your life, the inconvenience of remodeling is short in comparison to the rest of your life
Should I hire a professional or do it myself?
One of the biggest trends in home renovations is doing it yourself (DIY) but beware before you begin demolishing your home.  No matter how small the space there could be many different trades that would have to be involved: plumbing, electrical, sheetrock, paint, tile, stone fabrication, and carpentry.  Are you skilled enough to take all of these on?  Even if you are considering using subcontractors, you still need to know how to inspect what you expect.  It is better to start by hiring an expert, rather than having to hire professionals after a DIY project has gone bad.  Now that's expensive!
My home is small but how can I effectively maximize all available space and make it look larger?
A professional can certainly help you with that challenge. Below are some options to think about:
If changing out the kitchen cabinets, consider every square inch in the design phase. 

Consider how many drawers you need, and could they be multi-layered?

Do you have a "dead" corner that is wasted where a Lazy Susan could be utilized? 

Could taller wall cabinets be installed with pull- down storage or tray dividers placed strategically to maximize space?

Or depending on your budget, remove a wall to open your space and give it a larger look and feel.

In your bathroom; add a toilet topper cabinet and pull-out drawers in the sink base cabinets to utilize wall space and cabinet space more effectively.

For closet areas, reorganize using the full height of the walls for cabinets, pull down rods and specialty built-ins.

Install new lighting to brighten your home and Solar tubes if possible.
There is so much talk lately about the aging "baby boomer" population and incorporating universal design elements in the home. What exactly is a universally designed/universally friendly home?
Universal design assists with long-term use and accessibility for all, including young, old, mobility impaired or those living without impairments. Many homeowners are beginning to see the benefits of this type of quality living that allows for conveniences that will serve them or their guests now and in the future. Universal designed homes are part of an evolving movement that incorporates style and function into the design. In many cases, universal design features have also been shown to raise home value and resale desirability.
What are some things I can do to make my home more universally friendly?
Here are some ways to improve accessibility and comfort in all areas of the home:
One entrance without steps to the main floor of the house

One bedroom on the main floor

Wide interior doors – 34" minimum – 36" preferably

One full bath on the main floor with ample maneuvering space including a "barrier-free" shower with a minimum of 3 x 5 floor space

Hand-held shower head in bath

Grab bars in the tub/shower

Raised toilet (seat 17-19 inches from the floor)

Lever hardware on all doors

Electrical outlets placed higher on the wall

Light switches reachable from a seated position (36 – 44 inches from the floor)

"Rocker" (touch) style light switches

Adjustable closet rods and shelves

Stair handrails on both sides of the stairs

Kitchen countertops of varying heights for use sitting or standing

Lever controls on the faucet at sinks

Sinks with open space below to allow use while sitting

Kitchen base cabinets with pull-out shelves or "Lazy-Susan" type revolving shelves

Adjustable shelves in kitchen wall cabinets

A front-loading dishwasher, raised from floor
What are some simple ways to decorate my home and give a room ambience without major remodeling?
Here are a few tips to spruce up your home's personality:
Be creative with paint – however we would caution painting cabinets until you do your research, this can affect the value of your home if done improperly in a negative way.

Add decorative throw rugs over carpet.

Choose pictures and frames carefully, not too much and correctly positioned.

Pile on the pillows or throws to add color. Don't be afraid to mix and match materials and prints.

Include candles where possible. LED with timers are no muss or fuss.

Don't be afraid to be a bit whimsical – show off your personality and passion in your décor.
What is the best way to clean and maintain the finish on new wood floors and wood cabinets?
For floors – Your cleaning methods will vary depending on your wood finish. Make sure to check with the product manufacturer, dealer or installer.
For cabinets – Most factory cabinets and DMBK cabinet providers use a catalyzed conversion varnish finish. They are moisture resistant and heat resistant up to 145 degrees
In general, preventive maintenance is vital for long-term performance and beauty of wood cabinets and floors.
Tips for Maintenance
Use furniture leg protector pads to prevent everyday wear and tear on your floors

Vacuum floors frequently and wipe up spills promptly

"Dust" cabinets frequently with damp cloth to remove any food residue

For deeper cleaner of cabinets with catalyzed finishes, DO NOT use wax. Polishes are a better chance than wax. 

 

Polishes contain detergents to clean dirt, and emulsifiers to give the polish body to clean and last longer. Some waxes can permanently damage the surface if used improperly. 
In summary, wipe up spills, splatters, and water spots as they occur. 

 

Keep cabinets dry, use mild detergent or soap and warm water. 

 

Dry surfaces immediately with soft cloth, never use scouring pads, steel wool, or powdered cleaners.

Occasionally wax with a bees wax. It can add additional water resistance and create a lasting shine.

DO NOT use any silicone waxes – they will create a build up over time.
What is the best way to clean and maintain quartz countertops?
Quartz countertops are made from the hardest minerals on earth and the most durable countertop on the market for kitchens.  They are made of 94% ground up quartz and polymer resins to bind it.  The resins also help to make it stain and scratch resistant, nonporous, and antimicrobial so they never need to be sealed. Quartz countertops come in a large variety of colors and some have recycled glass or metallic flecks added to the mix.
Low-maintenance – just wipe with soapy water for daily maintenance. Avoid scouring pads which can dull the surface.

PRECAUTION – 

 

most manufacturers agree that heat higher than 150 degrees directly applied to the surface can damage the countertop causing it to mis color or even crack – Use trivets and cutting boards to keep your quartz looking new for a life-time.
What is the best way to clean and maintain granite countertops?
Granite is a natural stone that comes from quarries all over the world.  It is a porous surface which does require maintenance.  The lighter the color the more porous the material.  Sealing is necessary to keep stains from penetrating.
Clean your granite countertops regularly with warm water and a few drops of antibacterial dish soap. 

 

If you spill something on your countertop – wipe immediately to avoid penetration.

There also many spray-on cleaners for daily or weekly use that will keep your granite polished and beautiful.

Annually apply a high-quality sealer to your granite – we would recommend visiting a reputable tile and stone dealer to purchase your product.
Our website is our invitation to you to explore and discover who we are as individuals and as a company. It is our desire to introduce you to our business in a way that is comfortable for you in the privacy or your own home or office and to inspire you to take the next step, but not until you are ready.
SHOWROOM HOURS:
Monday – Friday: 9 a.m. – 5 p.m.
Saturday: Appointment Only
Insured W.C./Liab. • Lic # 548785