About Our Remodeling Company
Our distinctive, full-service remodeling approach focuses on serving our clients from design through installation. With a dedication to superior craftsmanship and ethical excellence, our specialists are committed to delivering a project that meets your specific needs.
We specialize in kitchen, bath, cabinets, countertops, home office spaces, accessibility, home entertainment centers, structural changes and more. 
MEET DREAMMAKER BATH & KITCHEN
For 40 years Patty and Everett Gray have been working to enhance and improve the lives and homes of Kern County. Before owning DreamMaker bath & Kitchen the couple worked as entrepreneurs in the remodeling industry. Upon learning about DreamMaker Bath & Kitchen's mission, vision and personally aligned code of values, the couple launched the franchise in 2003. The team's expertise and dedication to quality craftsmanship and honest business practices has made the company a well-recognized name in the remodeling industry.  
In 2020 DreamMaker Bath & Kitchen was recognized by the Better Business Bureau (BBB) with the honorable BBB Torch Ethics Award for Marketplace Excellence. The award is evaluated and voted on by a panel of independent judges from the business and academic communities. The BBB says, "it's more than just recognition for those that deserve it. It is a way to raise the bar of ethics and trust-building in the marketplace."
Additionally, the team has been recognized as the Best Home Improvement Contractor by the Best of Bakersfield Readers' Choice Poll for 6 years and Favorite for 4 years.  They have also been recognized for the Big50 national award by Remodeling Magazine for exemplary business practices (given to only 50 contractors a year across the nation).
The DreamMaker team has a combined 140 plus years of experience. Everett Gray started his career in 1973 with the Carpenter's Local Union in Norfolk, Virginia, and earned his Journeyman Carpentry Certificate in 1977. He earned his California State Contractor's License in 1983 and later incorporated their business in 1987, holding his present  license # 548785. Everett is well versed in all aspects of residential construction from foundations to roofing as a result of both his formal training and field experience.
"Our entire team is committed to finding the right solution from the many options available for each family. From simple cost effective projects to luxury at its finest, there is no "one size fits all" when it comes to creating environments that match our clients individual lifestyle needs."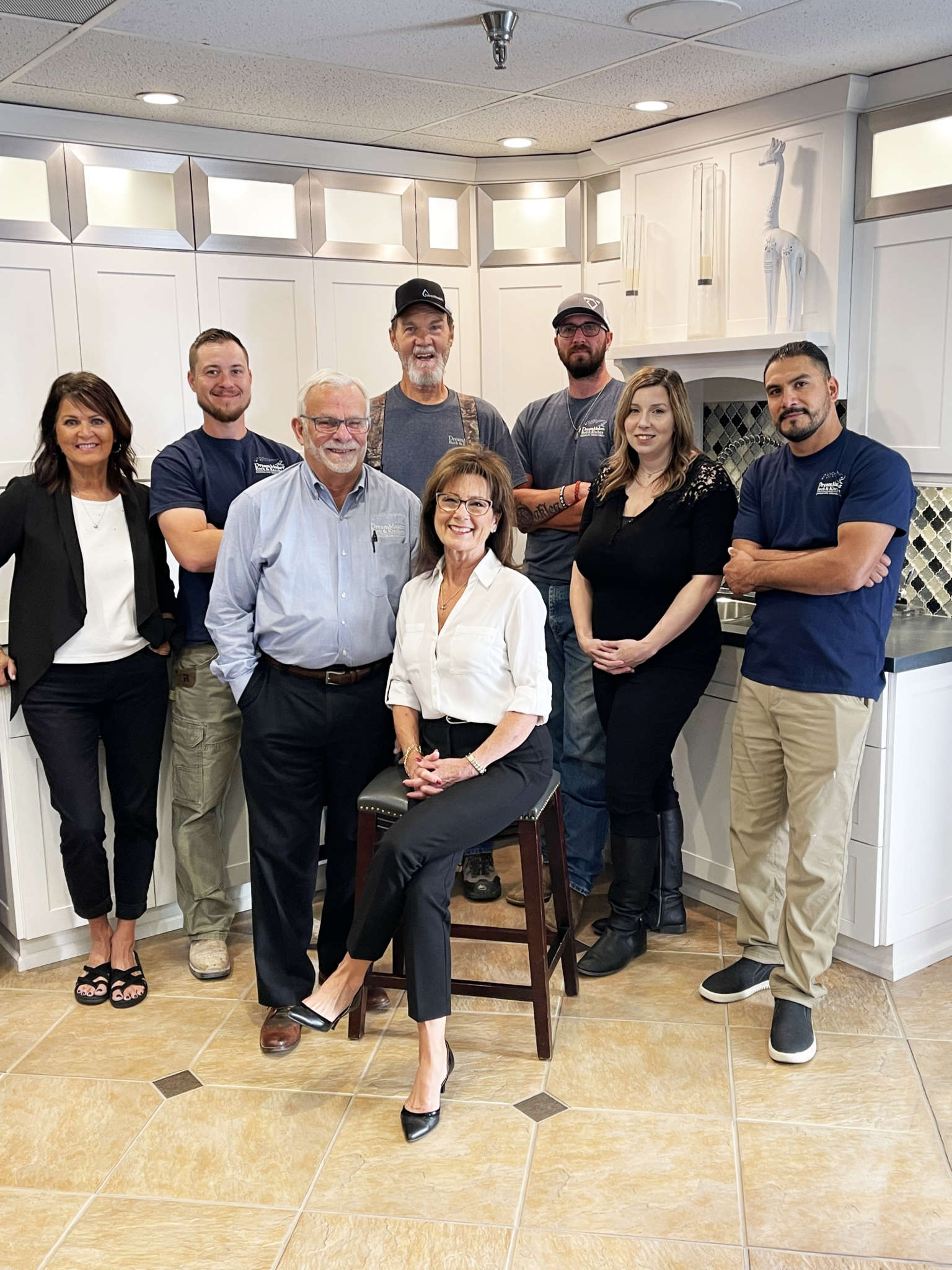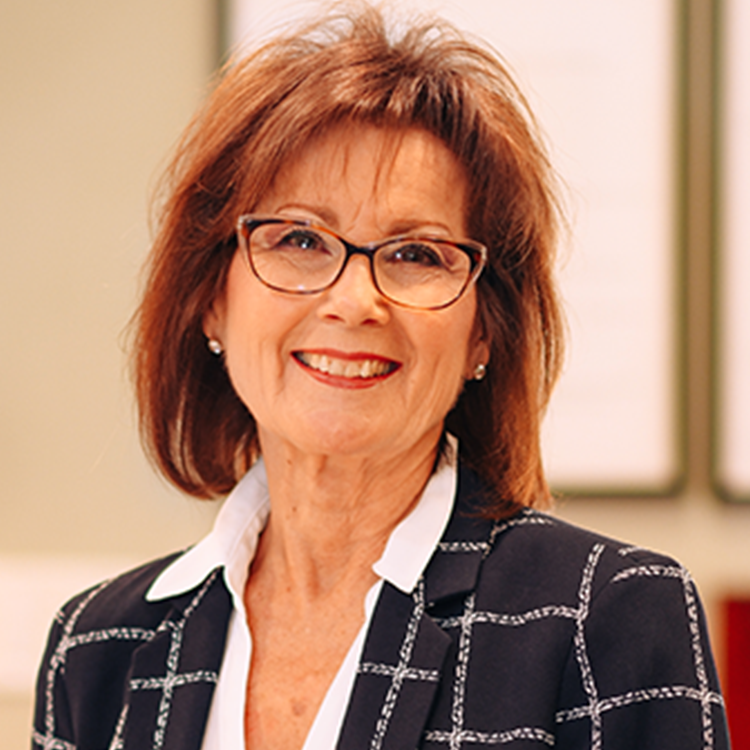 PATTY GRAY
Owner & Chief Stewarding Officer
Patty Gray, Owner of DreamMaker Bath & Kitchen and now a newly elected City Councilmember, counts her blessings every day in every way including her new role to serve her city.  "Bakersfield is our home! Protecting our streets, stewarding our tax-payers hard-earned dollars, and seeing new job opportunities open up in our city are my top priorities." Patty represents Ward 6, Southwest Bakersfield.
Patty's heart was to be a mom since she was a small child. That dream came true in 1976 when their first son was born, and then again when two more sons followed behind him. She worked hard at managing her home and her 3 sons, eventually homeschooling the younger two, while managing the bookkeeping and payroll for Everett Gray & Sons Construction, Inc. She never dreamed that she would be the managing officer of a small business until 2003 when she was called upon to take off her domestic hat of 28 years and jump in with both feet to manage their DreamMaker franchise. It was evident early on that her administration skills that she had honed as a homemaker, her leadership skills that she had developed since childhood, and her love for people and hospitality would be just what she needed to lead a local and national award winning franchise company.
"At first it was difficult to change roles, but once I understood my purpose as a businesswoman, I found "home" once again. DreamMaker has been an open door to new relationships and opportunities beyond what I could have hoped for. I love interacting with our customers, hearing what their dream is and seeing that dream become reality. I am grateful that God has positioned me as a businesswoman in Kern County to enhance lives and improve homes."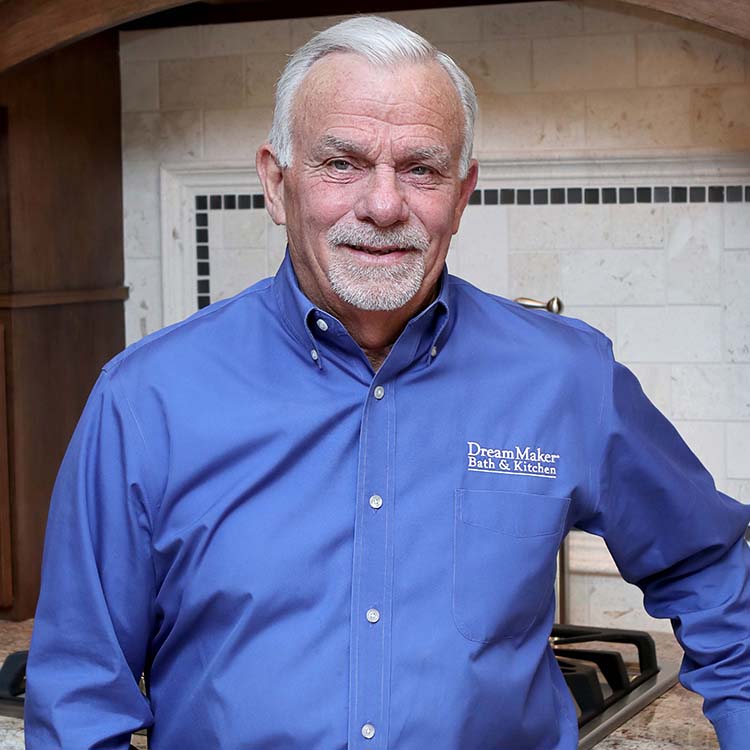 EVERETT GRAY
Owner & Sales/Design
Everett, an accomplished carpenter and contractor, has been in the business of residential remodeling and construction since 1972 and has four years of architectural drawing to enhance his training. When the opportunity of establishing a kitchen and bath design/build company in Bakersfield came along, he was thrilled to take his company to the next level and focus on the two most challenging rooms of the home. His 40 years of experience in construction, understanding of architectural drawing, and creative eye for design has been the foundation of DreamMaker. His clients, fellow team members, and trade partners enjoy Everett's wit and personal touch as he interacts with them throughout the process.
Everett, a native of Virginia, and Patty, a native of Kern County, have been married since 1975 and raised three sons. Everett's greatest joy came from raising his sons, coaching all three in Little League, and taking them on many camping, fishing, and water skiing trips. He now enjoys making many more memories with his grandchildren.
"Being able to visualize a project from its inception and turn an ugly duckling project and into a beautiful swan is what I love the most. We have been very fortunate to work with some of Kern County's very best homeowner's who appreciate the talent and value that DreamMaker has to offer."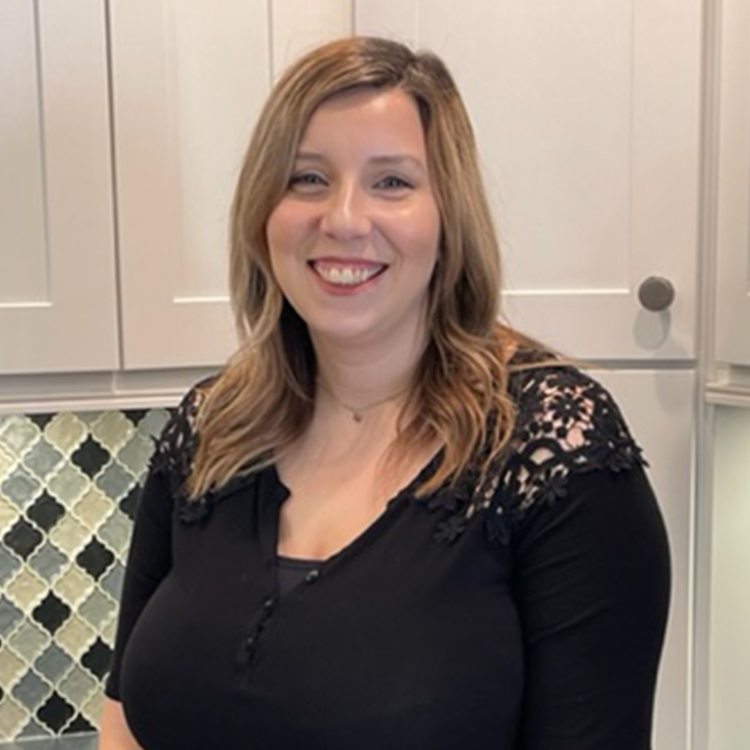 STEVIE SHAW
SALES & DESIGN
Stevie was born and raised on the Central Coast of California and graduated from Pacific Beach High School.  In 2011 she started working in the home improvement industry and found that she had a passion for working with homeowners and talking with them about their home improvement projects.  She learned kitchen and bath design according to NKBA standards.  She later moved to Portland, Oregon where she designed projects for very old homes which presented new challenges and learning experiences with every project.  Her growth in the industry grew exponentially.  She loved seeing her client's houses being turned into their dream homes as she designed their kitchens and helped them make choices in appliances and flooring.  Stevie became a top salesperson and designer for one of the largest cabinet companies in the country, she truly found her passion.
Coming back to her home state in 2018, she began to look for a company and a culture that would appreciate her talent and help her take her career to the next level of professionalism.  "I found DreamMaker Bath & Kitchen, a family-owned business that has an amazing Code of Values and a strong belief in God! After talking with Everett and Patty, I knew that this is where I wanted to call "home". I plan to make this my career and grow as a member of a very talented team."
Since coming to DreamMaker, Stevie has earned the Franchise corporate award of Salesperson of The Year Finalist in 2019 and then took the Salesperson of the Year in 2021, the highest award given for the entire nation for sales/design.
Stevie's strengths include her attention to detail, being extremely well-organized, patient and willing to take all the time that is necessary to make sure her clients receive exactly what they are looking for in their design. 
The Earnest's summed her up by saying this, "Stevie was very responsive to every question, listened to our needs, knew her products, was always easy going, gave good advice, and put her clients as #1 always."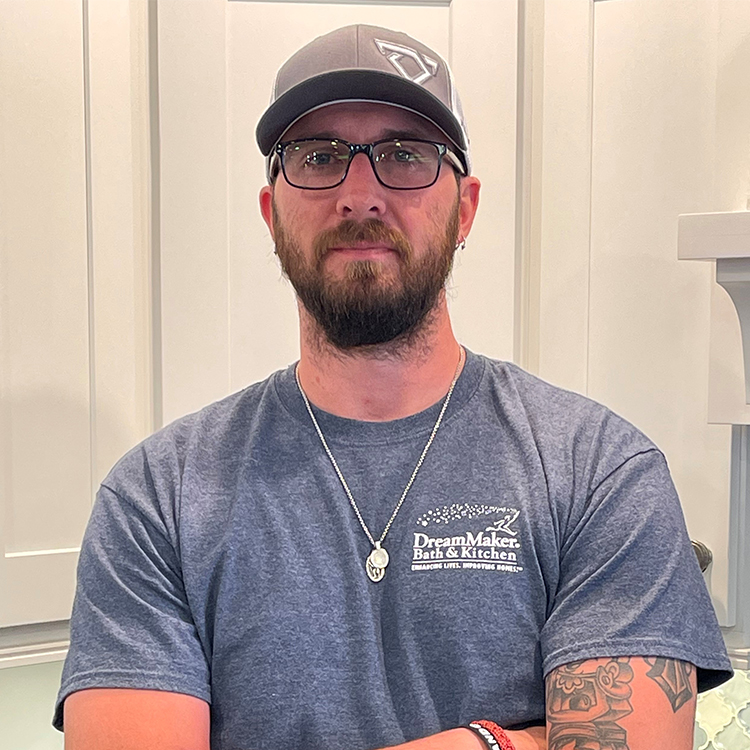 TRAVIS MOODY
PRODUCTION MANAGER
Travis began his career in remodeling/construction with DreamMaker in 2011. Starting as an apprentice, his ability and eagerness to learn quickly propelled him into a new position as a lead carpenter. He worked as a lead carpenter for DreamMaker until the summer of 2016, when he moved to Northern California.
While living in the Bay Area, Travis worked as the head of installation for a world-renowned custom woodworking company, broadening his skill set and passion for woodwork and carpentry. 
Following his return to Bakersfield in 2020, Travis took on the role of Production Manager for DreamMaker and has been recognized for his efficiency and diligence nationally as National Production Leader Finalist.
His clients also appreciate his role. The Elliott family described his as this, "Travis listened to our needs during production. He became family to us and was pleasant to work with throughout the construction. Communication was great and everything got taken care of in a timely manner." 
Beyond the walls of DreamMaker, Travis is a devoted husband and father, whose life revolves around quality time with his family. In his spare time, he is most likely to be found riding Harleys with his wife(Sam), or out on the golf course with his daughter(Rylee).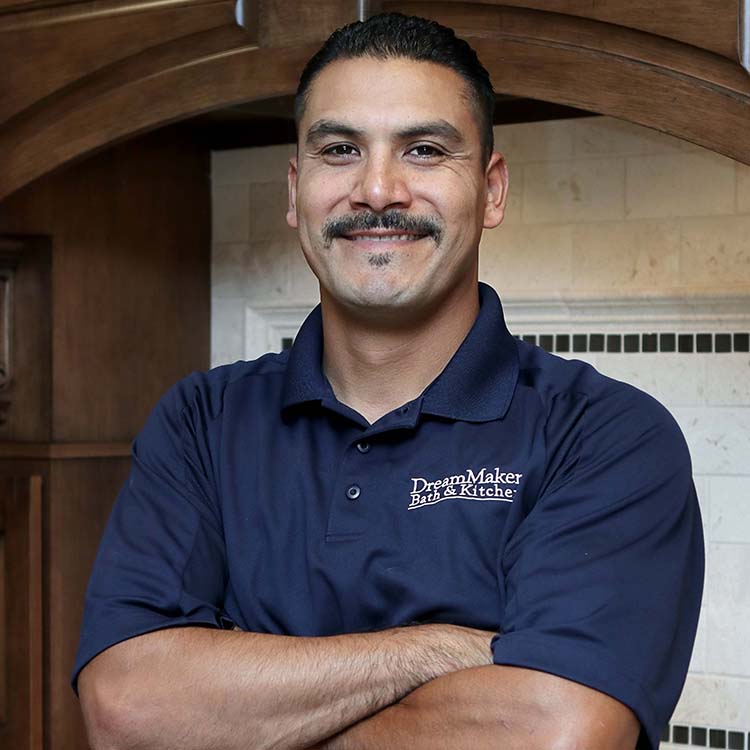 MIGUEL CASTRO
LEAD CARPENTER
Miguel has over 20 years of experience as a carpenter in the building industry.  Before moving back to Bakersfield, he worked for high-end and well-respected companies in Monterey Bay, Carmel Valley, and Pebble Beach areas.  Particularly, in Pebble Beach he had the opportunity to master his finish carpentry skills; setting cabinets and doing precision trim work in multi-million-dollar custom homes.  Miguel is also adept at plumbing and electrical work, truly a multi-trade craftsman.
Being a husband and father is at the top of his list when not working. His beautiful wife and three children are his inspiration everyday to go to work and to do an outstanding job for his DMBK clients. 
Mrs. Bervel had this to say about Miguel, "Miguel does great work, he is a problem solver, professional, a pleasure to work with."
He is proud and appreciates the opportunity to be part of an outstanding team such as DreamMaker Bath & Kitchen. "Everyday is a new learning experience for me to grow as a professional and to bring out the best in me. Thank you DreamMaker for giving me the opportunity to be part of your family."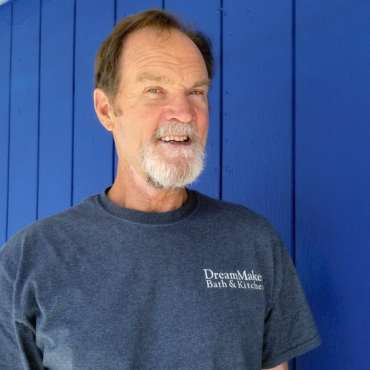 KENNY BISHOP
LEAD CARPENTER
Kenny Bishop has been working in the construction/remodeling industry since 1976. He started with a trade certificate but in a short amount of time, with his willingness to learn, he adapted to multiple trades and found that he enjoyed working in the construction industry. Once he became adept at finish carpentry, he worked in Las Vegas doing beautiful finish work in casinos and later custom homes.   
Kenny is a  well-rounded Lead Carpenter able to do plumbing, electrical, framing, finish work and install custom cabinets. He takes pride in his work and takes delivering superior customer service very seriously. Mrs. Spear said this about Kenny, "Kenny is precise, detailed, and pleasant to work with."
He is never more satisfied than when he has been able to serve those around him, while learning something new every day. He never stops growing and always find a good reason to share a smile and an encouraging word. 
Everett Gray (Owner) and Kenny have worked together since 1985 at different times of Kenny's career. "He is well received by our DreamMaker clients and lives out the Code of Values that guides the team." His favorite?  We believe in having fun in the process! And that he does!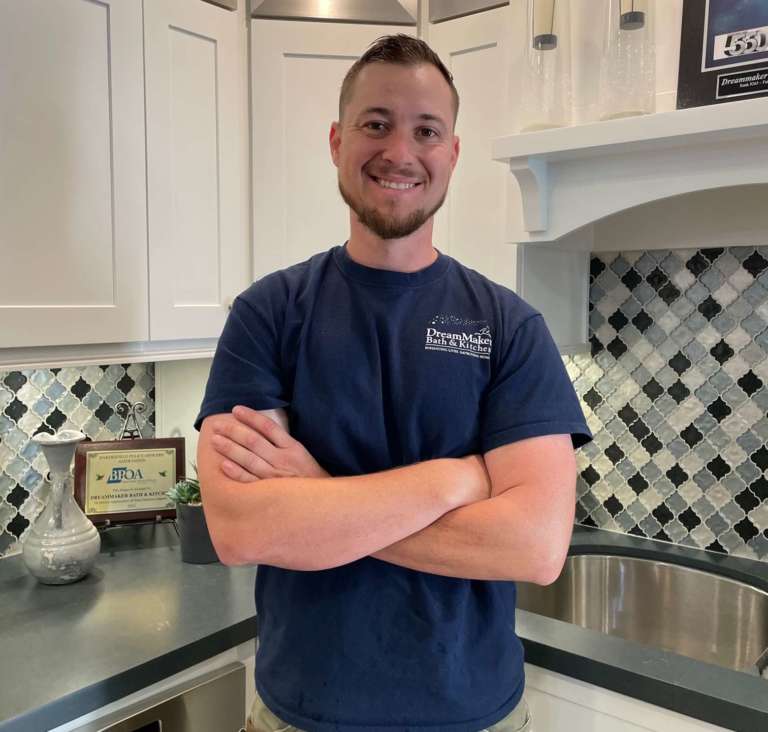 CHADLER VALDEZ
CARPENTER'S APPRENTICE
Chadler has had an interest in learning the trades for years but was finally given the opportunity to learn and thrive at DreamMaker Bath & Kitchen.  Prior to his hire, he was doing commercial diving in the Gulf of Mexico and then later when he moved to Bakersfield, he went to work at a local veterinarian hospital in the emergency care ward.  Through that job, he met the Production Manager for DMBK and shared his interest to learn the trades. He was hired on and immediately the team saw that he was a hard worker, eager to learn and loves a new challenge. 
Our clients have commented positively and enthusiastically about his work ethic and demeanor in their homes consistently. He believes in treating others as he would like to be treated. Mrs. Vevea had this to say:
"The construction team, including Chadler, worked steadily throughout the process and was aware of the concerns related to the dust, he ensured the area was properly draped and sealed so dust would not enter the other parts of the room."
We expect for Chadler to have a long career with DMBK and become a Lead Carpenter eventually.
Outside of work, Chadler has many interests.  He loves the outdoors and enjoys cycling, hiking, and camping.  
Our website is our invitation to you to explore and discover who we are as individuals and as a company. It is our desire to introduce you to our business in a way that is comfortable for you in the privacy or your own home or office and to inspire you to take the next step, but not until you are ready.
SHOWROOM HOURS:
Monday – Friday: 9 a.m. – 5 p.m.
Saturday: Appointment Only
Insured W.C./Liab. • Lic # 548785